Jack Lemmon's formidable talent and craft included his range: he could do drama and comedy with equal success. Filmmakers took notice and cast him in so many different kinds of roles that Lemmon's great versatility became part of his appeal among audiences: when we're down and want to feel understood or gain insight, we can watch one of his dramas; when we're down and want to be distracted and laugh, we can cheer up with one of his comedies. No matter what life gives you, there's a Jack Lemmon film to help.
Which of his performances have you most appreciated?

List: 
https://www.imdb.com/list/ls069749782/
Poll:
https://www.imdb.com/poll/beG1gWU8gfg/
I am waiting for one photo to be approved and am still deciding on which image to use for 'The Apartment.' Suggestions welcome, of course. Thank you!
There are so many levels of appreciation when it comes to the unique case of Jack Lemmon.

I "appreciated" his performance in The Odd Couple because during the 'tic' part (FMUUUH!) I thought I was going to have either a jaw-cramp or a seizure from laughing too hard.

 I "appreciated" his performance in Mister Roberts because he injected life and fun in a rather static and transparent film.

I "appreciated" his performance in Glengarry Glen Ross because he really made me feel he was at the lowest point of his life, a human wreck who'd sell his soul to the devil just to get a taste of his lost prime, only to lose his pride at the end and begs a man he had just insulted a few minutes before to let him keep his job, his "my daughter" was the epitome of pathos.

I "appreciated" his performance in The China Syndrome because he played a totally opposite role, a decent working man who loved his job but not to the point of alienation and I could feel the stress (emotional and professional) during the most nerve-wracking situations.

I "appreciated" his performance in Save the Tiger because it was a fine mix of sleazy charisma and hidden vulnerability plus it was quite a unique role he played... earning him his second Oscar.

... so tell me, how can I differentiate between all these levels of appreciation? It's just impossible, with any other actor, it could work, but Lemmon is so versatile, and I didn't even mention the bottle scene in Days of Wine and Roses, his chemistry with Sandy Dennis in The Out-of-Towners or his final scene in Some Like it Hot.
FYC
The Legend of Bagger Vance. His very last movie. It was a cameo appearance, but he narrated the whole thing.
Uploading a pic. Hope it gets approved.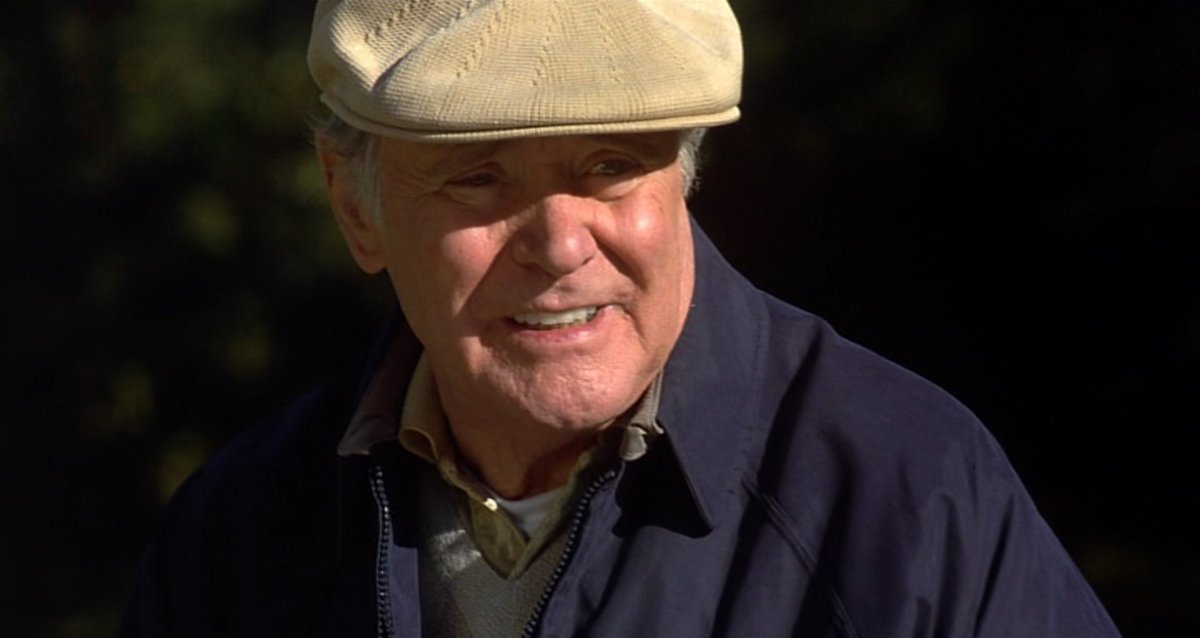 Some like it Hot...it was quite funny!
Amazing poll Ruby! He's one of my favorite actors ever; so much of who he was as an individual was on full display for so many of his roles. I'd go with his role as CC Baxter in The Apartment but man, he was good in everything. Well done on an awesome idea - the guy really needed his own poll 

It was a very hard vote. Seeing all his works listed you realize how great he was.
I voted for his fantastic role in Mister Roberts.
Its in, if it's not to late for a re-push!
https://www.imdb.com/title/tt0146984/mediaviewer/rm397384193
Jack Lemmon in The Legend of Bagger Vance (2000)